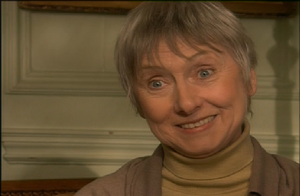 Geraldine Newman (born 18 February 1934) is an English film and television actress who has acted in more than 30 television programmes and films.
Her most notable television performance was as Hilda Hughes in the sitcom Ever Decreasing Circles.
Ad blocker interference detected!
Wikia is a free-to-use site that makes money from advertising. We have a modified experience for viewers using ad blockers

Wikia is not accessible if you've made further modifications. Remove the custom ad blocker rule(s) and the page will load as expected.