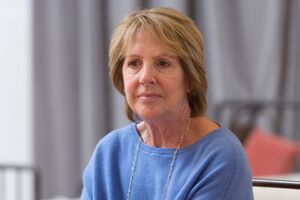 Dame Penelope Alice Wilton, DBE (born 3 June 1946) is an English actress. She is known for starring opposite Richard Briers in the BBC sitcom Ever Decreasing Circles (1984–89); playing Homily in The Borrowers (1992) and The Return of the Borrowers (1993); and for her role as Isobel Crawley in the ITV drama Downton Abbey (2010–15). She also played the recurring role of Harriet Jones in Doctor Who (2005–08).
Wilton has had an extensive career on stage, receiving six Olivier Award nominations. She was nominated for Man and Superman (1981), The Secret Rapture (1988), The Deep Blue Sea (1994), John Gabriel Borkman (2008) and The Chalk Garden (2009), before winning the 2015 Olivier Award for Best Actress for Taken at Midnight. Her film appearances include Clockwise (1986), Cry Freedom (1987), Calendar Girls (2003), Shaun of the Dead (2004), Match Point (2005), Pride & Prejudice (2005), The Best Exotic Marigold Hotel (2012), The Girl (2012) and The BFG (2016).
Ad blocker interference detected!
Wikia is a free-to-use site that makes money from advertising. We have a modified experience for viewers using ad blockers

Wikia is not accessible if you've made further modifications. Remove the custom ad blocker rule(s) and the page will load as expected.